We have helped hundreds of clients work smarter and efficiently to create, source, license, translate and optimize better content that aligns with their strategic objectives and marketing goals.
After we review and analyze client's requirements, we will plan, organize and produce all content in one place: Centralize it, so it's consistent, accessible and better monitored. From draft to approval, we will streamline the content production and save lot of time by replacing a messy authoring process with a smart and structured one.

The interface: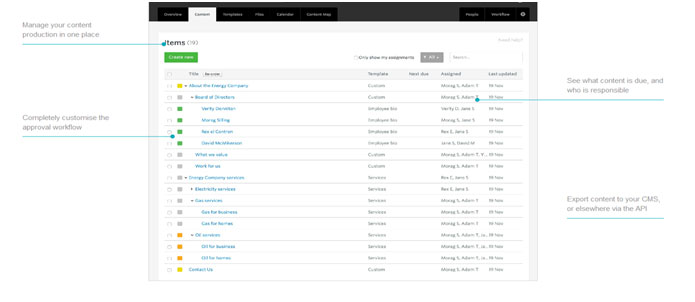 We will collate the content with structured templates and guide users (marketing team, sales, designers, production etc) by breaking it down into small easily understood chunks.
Everyone in the client's team will be notified automatically when their due dates are coming up. Once content is ready and approved, it will be pushed to the CMS or via e-mail.
Our project management also includes:
Centralized Repository: Bring content into one place to save time and give a clear view.
Efficient workflow: Makes it easy for client to understand responsibilities and prevents delays.
Structured Content: Ensure content is in the format needed using pre-defined structure that prevents content that don't adhere to rules and guidelines.